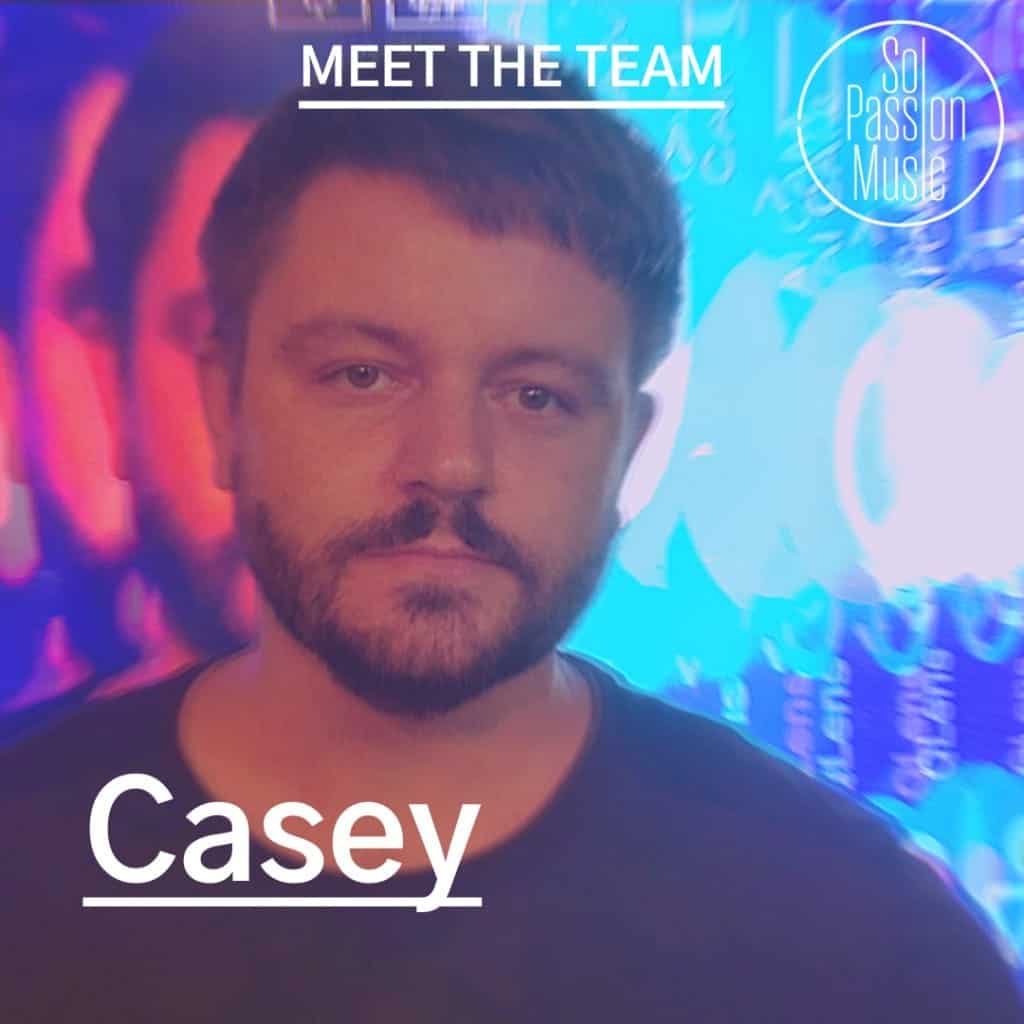 This time around we interview Casey, who's been with us at Sol Passion Music for three years now. Casey is highly respected for both his eclectic DJ sets as well as his experimental live modular synth performances, making him a valued member of not just Sol Passion Music, but Hong Kong's electronic community as a whole.  
Q: Where are you from originally?
Casey: Florida, I lived and went to university there for a couple of years, but in 2006 I came over to Hong Kong as an exchange student. I liked it so much that I decided to stay.
Q: What was your introduction to music?
Casey: I took piano lessons when I was a kid, and from that, I was able to teach myself guitar. In high school, I was part of the marching band and picked up some percussion instruments, and eventually, when I was in my last year of high school I joined a rock band, and we ended up touring the States. That was the first time I realised I could do it [music] as a career rather than just as a hobby, and I've been doing it since!
Q: When did your focus move more towards electronic music?
Casey: I was always interested in it, as a kid, I'd raid my Dad's CD collection which had lots of 80s records featuring synthesisers, so I developed a passive interest in the genre I suppose. But it was after I came to Hong Kong and started going to parties that I became more interested in DJ culture, rather than just the instruments.
Q: Was there a particular moment where you realised you wanted to get into making electronic music?
Casey: It was the first party I went to really, an overnight DIY rave on Lamma island. In Florida, I'd been more interested in rock music. I'd been living down the street from this punk venue, and I was really into that, but when I saw this DIY party I realised "hey this is even more punk than the punk stuff!" That party was when I realised I wanted it all – I wanted to DJ, I wanted to make this kind of music, that moment was huge.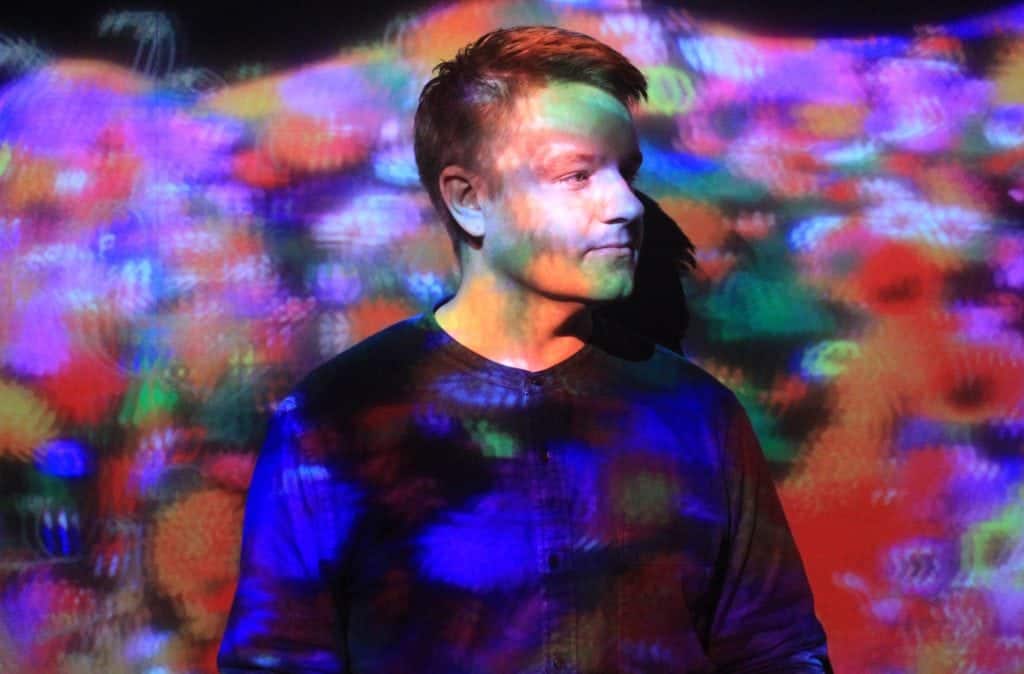 Q: You're mostly self-taught when it comes to music production, do you think that's defined your approach much?
Casey: I don't think so, no, in fact, I wish I'd had something like Sol Passion around when I was learning. When I started using Ableton Live in 2008, there wasn't anywhere near the amount of information online as there is now, so you had to either read the manual or teach yourself through trial and error. Now with students I have, I can teach them something in a couple of weeks that took me years to figure out on my own.
Q: Who would your dream collaboration be?
Casey: Recently I've been becoming more and more interested in the pop genre, and I think I'd like to eventually get involved in that world, professionally producing for pop musicians. One artist I've been listening to a lot is The Weeknd. He's worked with a lot of exciting collaborators, so I think he'd be pretty open-minded and refreshing to work alongside.
"When I saw this DIY party I realised 'Hey this is even more punk than the punk stuff!'"
Q: Do you have a favourite venue? 
Casey: What got me interested in DJ culture was outdoor parties, so those will always be my favourite; boat parties, beach parties and the like. As far as clubs go, I've been playing at OMA since it opened, so that place is pretty close to my heart.
Q: How do you make music at your home studio?
Casey: A lot of the time, I work entirely in Ableton Live, but also I have a lot of hardware and modular gear. The advantage to these instruments is in their limitations, which force you to work in specific ways, and that can lead to creative breakthroughs. If I get stuck while working then I know I can fire these machines up, and unusual sounds come out straight away. It's just like bouncing ideas off of a collaborator, finding exciting presets or setups ideas that I wouldn't have found working alone.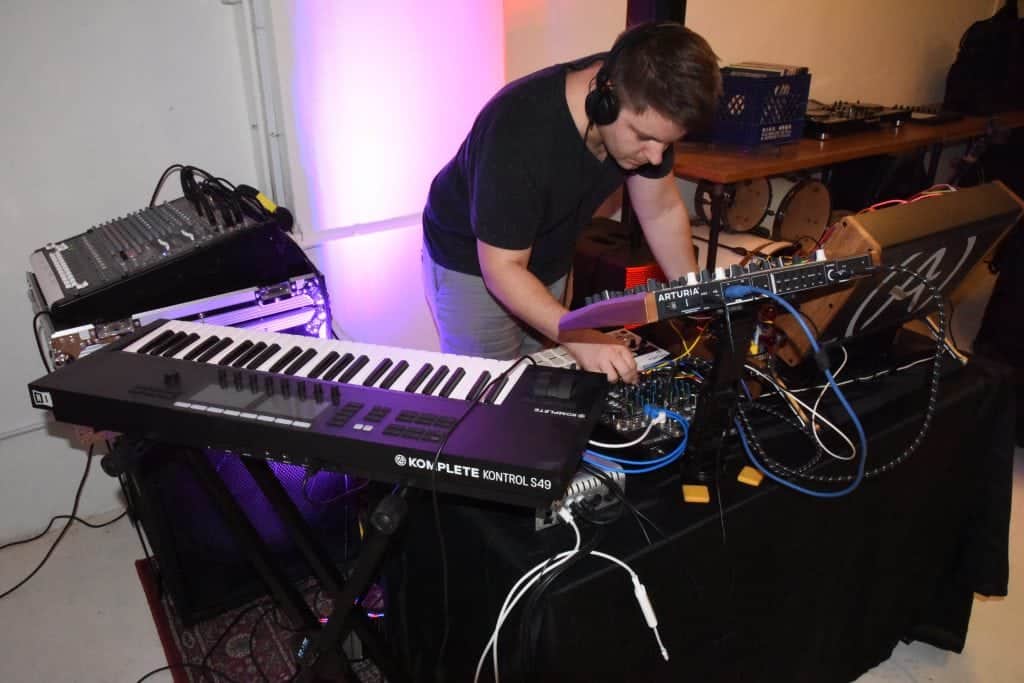 Q: How have you been finding the modular workflow?
Casey: It's the perfect world for inspiration, happy accidents and unplanned sounds or sequences. Modular makes it effortless to come up with exciting results, so I think it's excellent for experimental music. Although things may be random, it's still you setting the rules, programming how far it can take each parameter etc. Then I take these sounds into Ableton. You can program drum sounds on the modular, then cut them to the Ableton drum rack to make your custom drum kit. Or you can tinker around until you come up with exciting sequences which you then cut up, keeping the best bits for a project.
Q: How do you stay focused and motivated when it comes to working?
Casey: I work best if I'm either collaborating with somebody or if I've got a deadline. In previous years I did a lot of live shows, and that helped me a lot because there's always a specific date at which everything has to be ready. I had to know all of my gear and know what I'm doing by that point, and I guess the same thing making music; it helps motivate you when somebody is relying on you, and you have to deliver by a specific date.
"Modular makes it effortless to come up with exciting results, so I think it's excellent for experimental music."
Q: What are your current goals?
Casey: Currently, I'm working on my home studio. I'd like to get more use out of it and start doing a little bit more of what you'd imagine your typical music producer doing, collaborating with other people frequently and releasing music.
Q: If it hadn't been for music, what would you have seen yourself doing in life?
Casey: That's a tough question! I was 17 years old or so when I started playing in that band, and I've barely had jobs since then that haven' been related to music, so it's hard to say! I went to university for international studies, so I guess I'd be a diplomat or something, working in an embassy!
Q: Do you have any other hobbies?
Casey: When I started doing the modular stuff, I also learned electronics, soldering and making circuits and things like that. My first iteration of the modular synthesiser was all DIY modules; basically, I like poking around with electronic stuff, finding projects on the internet to do, etc.
Q: Do you make these things commercially, or just for personal use?
Casey: I thought about it for a while, but then I read some advice from people who own modular companies who all said that they started as musicians just like me, and since they got into making modular gear they've had no time for music. After reading that I realised I'd prefer to make music than products. 
Q: Have you ever released anything?
Casey: I've got some stuff out on Beatport, but it's from a few years ago, I'm not that crazy about it. It takes years to be able to produce something that sounds anything like what you want it to sound, but I think I'm finally at that point. I'm working on some stuff right now which fits the bill perfectly, I don't know if it'll be an album, an EP or a single, but I'd like to put it up on Bandcamp under my name.
It's complicated to explain. I've drawn inspiration from this duo called The Books who were around maybe 20 years ago. They did a lot of sound collage stuff, using found sounds from answering machines and people talking, as well as loads of samples of different instruments. So in Ableton live I've created instruments that can imitate that. I'll write something on the piano, and at different times each of the notes will be being played by a variety of different instruments that helps bring about this "sound collage" effect. I start with it randomised, record it, then I'll dive back in and change around specific instruments or samples based on preference. That comes a lot from the modular philosophy of working, which is working its way again back into Ableton live approach.
You can catch Casey performing live at Mihn tonight (the 10th of July), and at OMA on the 24th of July.
If you are interested in booking Casey for lessons, click here.