US-born duo The Weathering have been making their way around the Hong Kong music scene delivering a unique melodic sound, full of rich textures and harmonies. With the release of their self-produced debut album The Sea Cares for Its Own (available on iTunes) earlier this year, one-half of the duo Jeff Caylor catches up with Sol Passion Music to discuss bringing the albums studio sound to the stage using Ableton Live.
Tell us about your stage set up with Ableton Live?
I'm always working to trim what to haul to the gig. Here in Hong Kong, most of us have to take a cab to the gig so being able to wrangle the set up into a 5-seater is key for our rig. I have a 4U Gator Rack bag. It holds my MOTU Audio Express mk1 (FireWire interface from a few years back) and a Radial ProD8. It's reasonably light as well. There's some cabling that goes from the MOTU to the D8 for easy DI output from my computer. When it comes to input to the computer, I'm using a Novation Launchpad, midi from whatever keyboard I'm playing with that night (via MOTU AE) and Leora, my wife and bandmate, uses an Akai Pro MPK Mini. I've also been taking my Apple Bluetooth keyboard to gigs lately. This is a perfect wireless song trigger and general purpose controller. It's actually far superior to any iOS solution I've tried previously.
Our master Ableton set has all our songs laid out in Arrangement view (for easy part reference, replacement and editing), but we perform in Session View.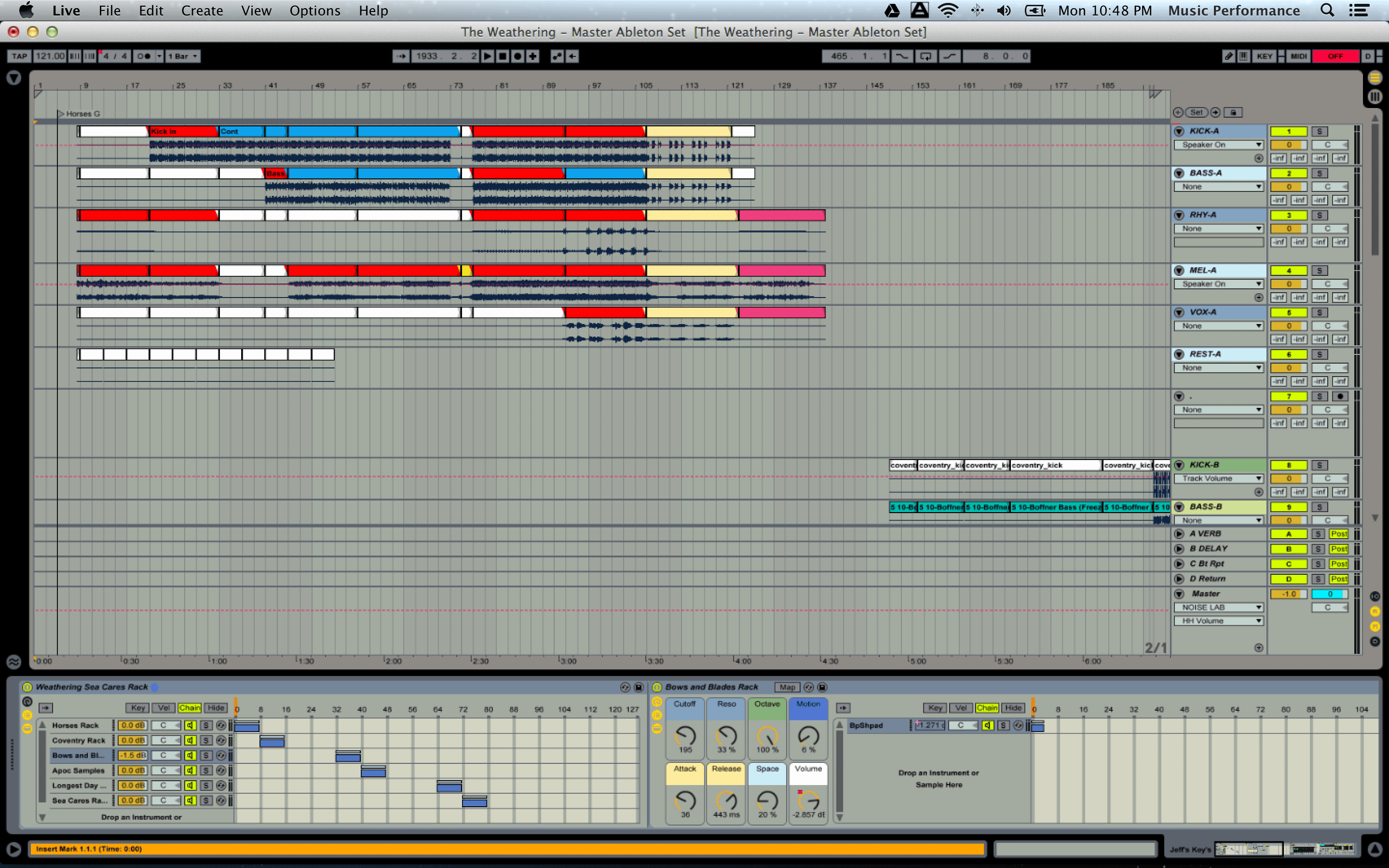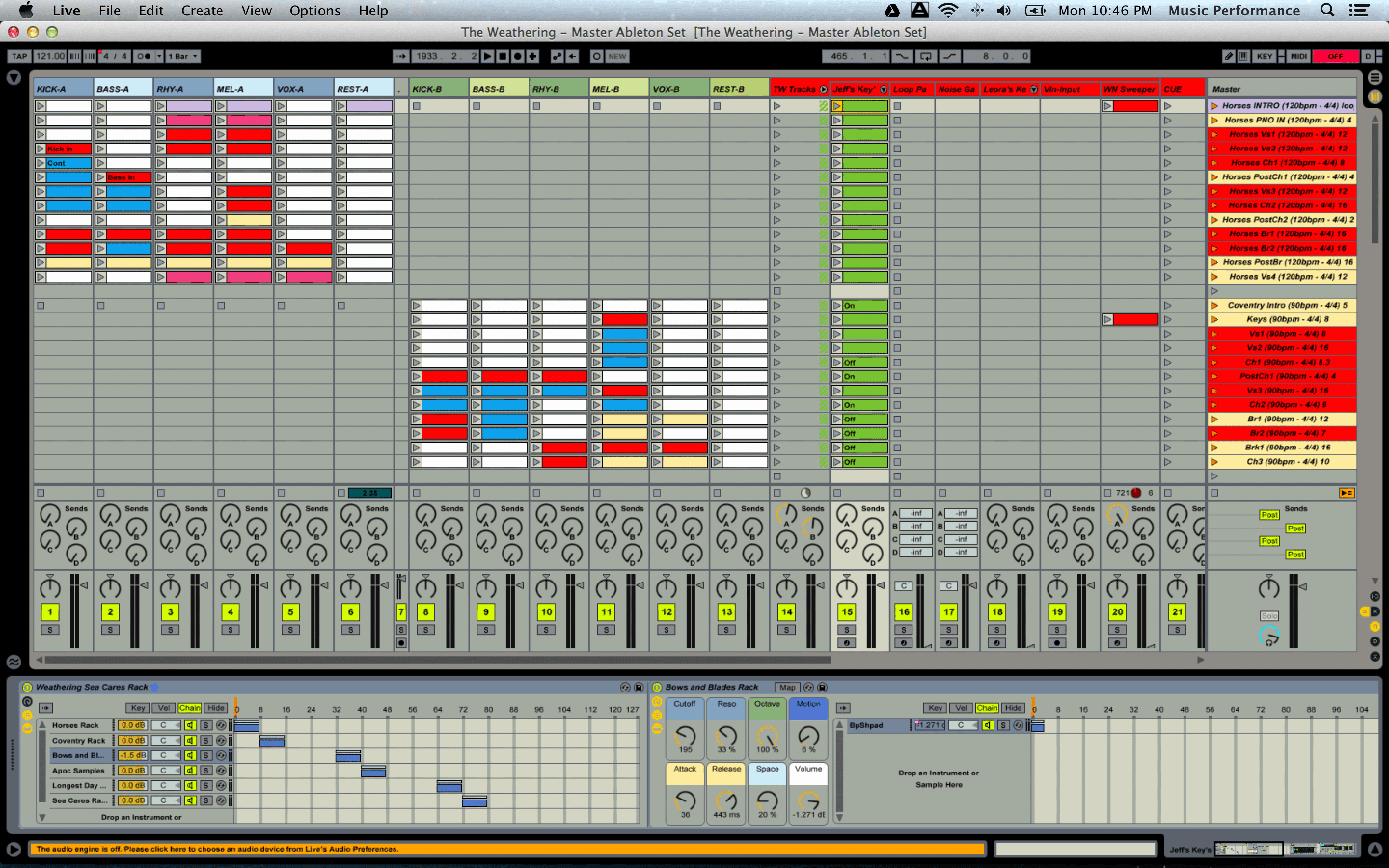 How do you arrange your live set?
The master set we use borrows from Tom Cosm's Megaset 2.0 as far as some layout tricks. Each song is grouped into 6 tracks. KICK (kick drums), BASS (bass parts), RHYTHM (percussion, glitchy bits, etc), MELODIC (keys and guitar stuff), VOCALS (doubled vocal parts for certain passages), REST (everything else that didn't fit into the previous categories). There's an A version and a B version making 12 main song tracks.
We also have a handful of CUE tracks that only go to our IEM mixes. These include click, count-ins, a vocal cue for song sections, and even lyric reminders for a couple songs.
Beyond that, there are some live interaction tracks that include a synth that I use for live looping, a track that holds all the samples Leora triggers on stage, a track for some white noise effects, and I have a few samples and synths set up in a rack that switch on and off using dummy clips. For instance, in one song, I'm playing a gated synth for the majority of the song and it switches to a pad for the last verse. When I start the next song, this rack has a different vocal sample midi'd in with the piano part I'm playing. All this happens in the computer so I just have to worry about playing the keys and not turning sounds on and off.
All tracks going to FOH buss through 6 tracks for routing, effects or other processing. BASS and KICK route to the subs or a bass amp, click goes to IEMs with some track mix, and usually try to send 2 to 4 other outputs to the mix desk.
We do a bit of improvisational playing, looping, finger drumming, or just looping in a few songs, Leora plays her Violin through Ableton's effects, we've done some live vocal looping, she has pad samples, bell samples, effect tweaking and we even control stage lights with this set sometimes. So yeah. There's a good bit of automation and also quite a bit of live interactivity.
What's your favourite thing about using Ableton?
I think the flexibility it offers in the live setting is unrivalled. It's a super platform and coupled with Max, you can do some wicked things with it. I have played with MainStage and while it can do the things 90% of people use Ableton to do, Ableton has the ability to add so much more. Being able to control lights, initiate complex automation with dummy clips, and having a rock-solid track record are what I love about it.
How big a part does Ableton play in the creative process?
I haven't yet moved to it as a sole source of production. I still use Logic Studio for 95% of our music creation. Part of me is simply accustomed to the workflow and part of me just thinks Logic sounds better.
Are there any plug in's you're loving at the moment?
When it comes to Ableton, the new Glue compressor is great. Also a fan of Redux and Beat Repeat.

How are you liking the new features of Live 9?
Loving the new browser. Huge advance there.
Describe your perfect music making scenario.
Leora and I manage to make it work wherever we find ourselves. I love having multiple days where we can complete make a mess of the studio at home and just create. Whether it's with a guitar and a pad of paper or making new beats on an iPhone app, we believe in capturing it all as it comes and then sifting through it for the best parts.
What's the best piece of musical advice you can recall receiving?
Sometimes the notes you don't play are as significant as the notes you do play.
Photo Credit Kennevia Photography