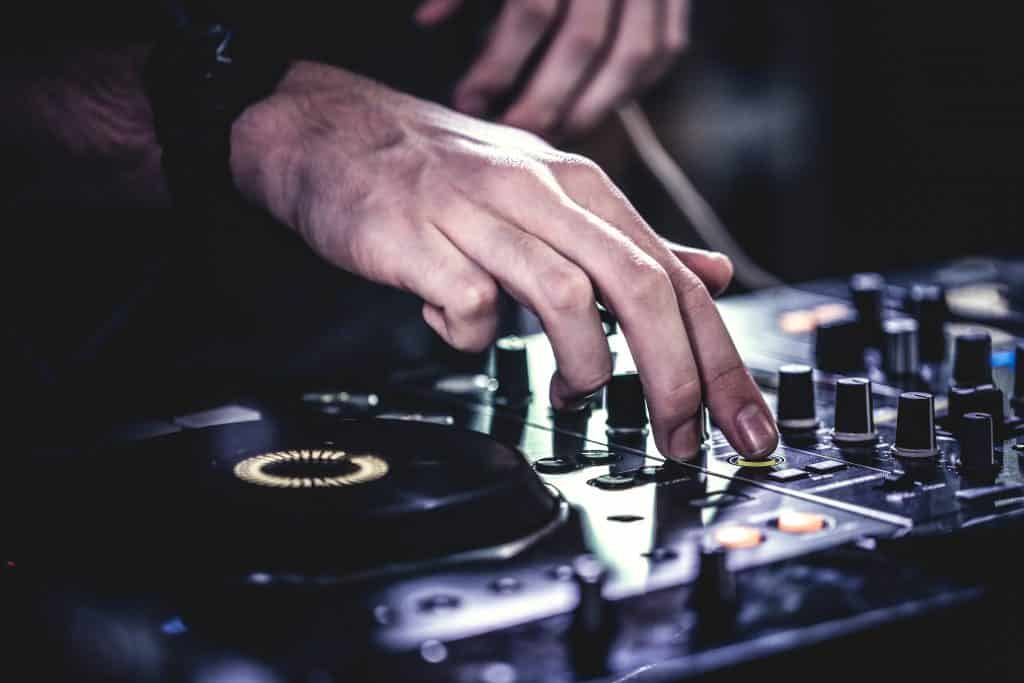 These days modern streaming services can fade from track to track, allowing playlists to flow together relatively seamlessly. So you may be wondering how difficult or indeed even important the act of mixing two tracks is. The main difference, simply put, is that with intelligent track selection and deft mixing abilities, the combination of two tracks can build up to something far more than merely the sum of its parts. World Famous Producer and DJ – Armin Van Buuren calls it "the art of 1 + 1 = 3".
Let's dive into the relevant music theory and discuss some fundamentals. Firstly, the majority of modern music utilises a relatively direct and straightforward formula – building tension and releasing it in a rhythmic pattern. The ultimate example of this is "the drop", a staple of modern dance music where a track explodes, and the dance floor erupts. Just as the dancers can feel individual tracks building towards moments such as these, skilled DJs can create the same "build and drop" element between different records. It's also important to realise that even in songs that don't feature a massive build and explosive release, the building and release of tension still plays an integral part in keeping any music interesting. So how can we do this?
The first thing to get right is to set the BPM (Beats Per Minute) of the track you are introducing, so that is precisely the same as the track that you were already playing. In some instances, you may need to nudge the BPM of the first track a bit faster or slower to allow for a smoother transition. Be careful, however; this can sound quite awkward if done wrong, so usually, it makes the most sense to pick two tracks that are supposed to be played at similar speeds and adjust the BPM of the record you're bringing in.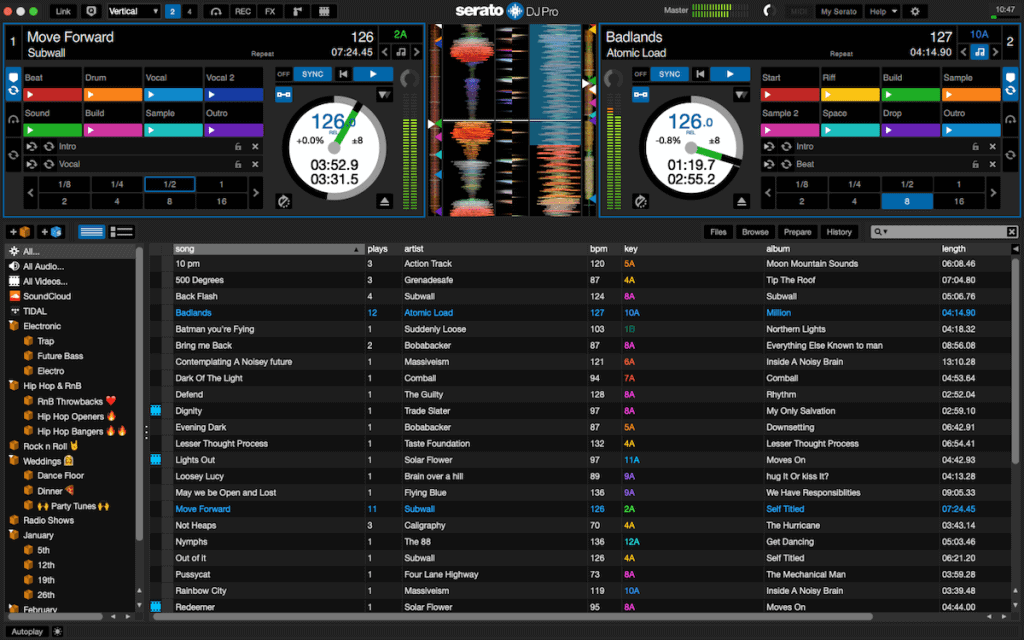 The next thing to consider is the "style" of the transition you're about to make. There are loads of different ways this can be done, with new technological developments leading to increasingly creative mixes. As you get more and more into DJing, you may very well find your own exciting and fun approaches to use, but for now, we'll just mention two of the more popular ones, the Cut Mix and the Blend Mix.
The Cut Mix is commonplace among Hip-Hop DJs, who use it to swap over from one track to the other quickly. It's a very abrupt style of DJing, and in the right hands can be extremely useful in getting a reaction out of a crowd as you jump around from one hit song into another.
The Blend Mix is better suited to genres such as House and Techno. Tracks in these genres usually long introductions as well as outros, giving any DJs seeking to play them lots of time to make subtle adjustments. While you don't get the exhilarating bait-and-switch elements of the Cut Mix here, it's perfect for maintaining a consistent groove and feel on the dance floor.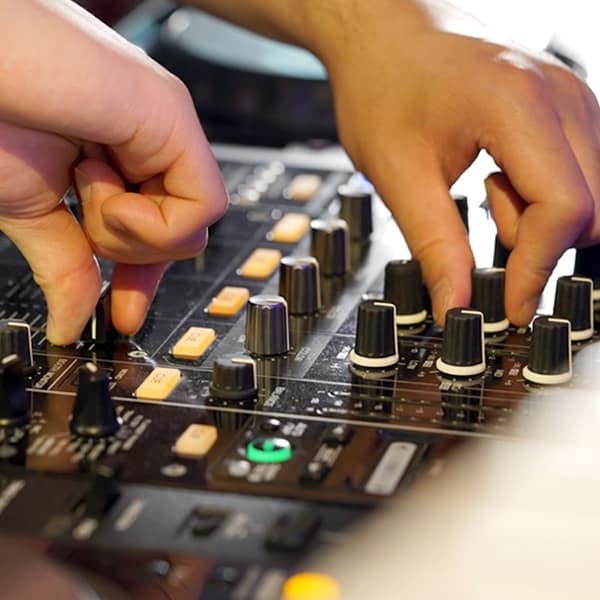 So you may be thinking, "when's the best time to make a transition?" Although it may seem daunting at first, with enough practice, you'll be able to "feel" your way through tracks, provided you know what to expect from them. By paying attention to musical cues, you'll be able to realise when a record is moving towards any essential kind of "drop" or significant moment. Additionally, almost all modern DJ hardware and software displays track waveforms for you, so you know when to expect the energy to change.
The scientific aspects of a stable transition can be studied and analysed by aspiring students such as yourself. Still, the real creativity and ingenuity of great DJing shine through in track selection. A good DJ can mix between tracks flawlessly, but a great DJ knows how to create a musical journey for their dance floor by picking tracks that fit together perfectly. Preparation comes in handy here; making sure you know what genres are best to play in the venue you're playing. It's also crucial to learn to read a room, recognising which elements of your set bring about the best response (but at the same time you don't want to fall back to heavily on repeating the same one transition over and over).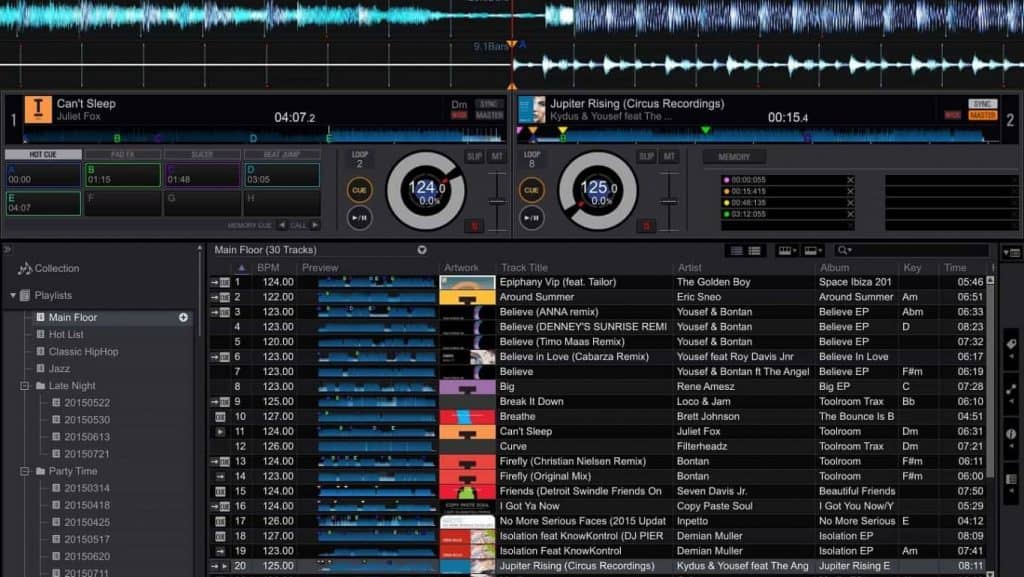 Last, but not least – trust your ears. There are so many visual cues available to the modern DJ that it can often be more tempting to DJ entirely based off of what you see in front of you, but there'll always be room for errors that way. Instead, you must learn to rely on what you're hearing. You don't want your tracks to clash too much, and even if according to what you can see it looks like the two records should fit together if you listen carefully you may realise that elements (such as vocals) may clash, and you're better off picking a different track. You must make frequent adjustments to EQ and volume as you mix to keep it tight, and to remember that some of the best moments in music happen by accident so if it sounds good, go with it!