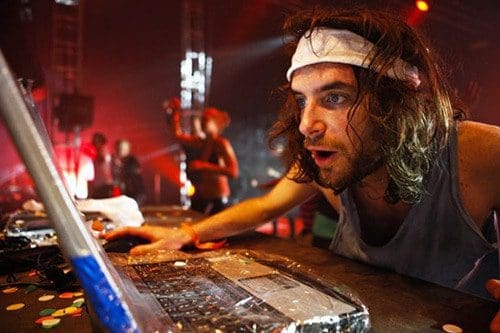 Let's start things off at your favourite club just as the biggest of basslines drops. Everyone around you goes nuts, and you look up to see what genius has orchestrated this colossal moment; they're right there in the booth, hunched over and staring at a laptop screen. Hang on, where did the DJ go?
In the industry it is called "Serato Face", and just like trying to sneeze with your eyes open, it is an unavoidable force of nature. It's a necessity for the DJ; however, who is most likely straining in the darkness, attempting to study all of the information displayed. Their software of choice presents this information – not only can it be used for track selection, but modern DJing software provides the user with additional visual aids and options for effects.
The performer's laptop can connect to the other traditional tools used by DJs (such as CDJs) via a USB cable, and this expands the functionality of the hardware. In contrast, the equipment, in turn, provides control of the software. Digital DJing Setups such as these can be incredibly powerful tools for next-level mixes and ambitious effects usage.
The role of the laptop extends beyond performance. Most DJing software can be used in preparation before gigs to compile playlists, analyse vital track information, and set markers for the critical moments in each song. Some software can even upload all this information to a handy USB drive for minimal fuss plug & play at the DJ booth without the laptop!
DJ software is affordable, spectacularly powerful, and as fun and easy to use regardless of context, be it at house parties or festivals. In this article, we are going to dive into the top 3 Digital DJ setups and explain how you can get the most out of them.
Arguably the most innovative DJ software across history would be Native Instruments' Traktor Pro' series, currently on its 3rd edition. It's highly technically advanced with endless options for creative mixing options on the fly. Additionally, it is incredibly hardware friendly, both with Native Instruments own equipment as well as 3rd party controllers. The software is particularly retina-friendly and has many visual features that make it easier for DJs to analyse a track.
The next software we'll look at is Serato DJ, particularly famous amongst the DJ community here in Hong Kong. For turntablists and fans of scratching, this is the go-to DJ software. Its handy interface allows the user to blend traditional DJing skills with modern digital features, making extremely complex mixes more viable and allowing the user to express themselves. Additional hardware is required to connect the software with the CDJs in the DJ booth, which can be a bit fiddly. Still, overall it's a robust platform perfect for blending traditional approaches to DJing with cutting-edge functionality.
Finally, we have Pioneer's 'Rekordbox' (the same company that makes the industry-standard DJ hardware). Rekordbox was previously used only as a tool for preparation, allowing users to analyse and prepare tracks before exporting that information to a USB stick. However, the app eventually expanded into a fully-fledged performance software, making it extremely versatile, allowing DJs to keep their libraries ready for usage both with a laptop and without.
With introductions out the way, we can assess which digital DJ setup suits you best and their key features:
Traktor Pro 3:

Traktor Pro 3 – Image Courtesy of Native Instruments
For the DJ who is looking to expand their creativity and explore further capabilities with a piece of software, Traktor offers a world of possibilities for deconstructing tracks and arrangements allowing them to bridge the gap between DJ & Producer. 
Its well-designed interface makes it easy for beginners to learn, but it still has a lot of depth for more advanced users

Stems format – no other system does this, can allow for highly creative DJing

Well supported with high-quality hardware from Native Instruments, but simultaneously capable of being mapped to any controller

Use of colour in track waveforms to better understand the energy of a track

Related track fixture

Tempo Sync allows DJs to free up their hands and encourages more creativity

Sample decks allow live remixing, deconstructing tracks & layering

iTunes playlist integration allows for simple navigation and management of music

Controller integration for CDJs, turntables and dedicated controllers

Multiple quality effects available on each audio channel for adding extra flavour to your tracks. 

Have up to 4 tracks playing at once + use of 4 sample decks for each audio channel

Serato DJ Pro – Image Courtesy of Serato
Serato DJ Pro:
Setting the industry standard for club DJs, Serato offers DJs a powerful, user-friendly interface that keeps traditional DJs happy, making the switch to software an enjoyable one. 
Controller integration for CDJ's, turntables and dedicated controllers

iTunes playlist integration allows for simple navigation and management of music

DJ effects powered by Izotope known for their stunning quality and sound (they have made many incredibly popular and loved plugins for producers)

Powerful video mixing plugin available for manipulating visuals with your music

Simple one-click MIDI mapping to assign custom setup with your desired controller

The simple user interface makes navigation very intuitive

A sample player which can play up to four short loops or sounds from outside of the tracks currently playing
Soundcloud/Tidal integration
Different modes for practice and performance
Pioneer Rekordbox

Rekordbox – Image Courtesy of Pioneer
For the DJ who desires versatility and consistency, Rekordbox is the right tool. A major plus is it allows DJs to complete the management of tracks allowing for quality preparation of music. 
Rekordbox is now a fully equipped performance software, so can be used both for gig preparation and performing actual concerts.

Streaming from SoundCloud GO and Beatport Link

Related track feature (similar to Traktor Pro 3) that suggests mixes based on BPM and Key

Cloud synchronisation across various devices

Ability to export saved cue points and other data to USB.

Mobile app

iTunes playlist integration (similar to Serato)

Vocal-detection feature – this is the newest feature added to Rekordbox and provides a massive service to any DJ looking to avoid awkward vocal clashes
Once you have identified which software suits you best, it's time to fill out your library. With each of these Softwares featuring some kind of streaming service you may find yourself preferring to subscribe to the required platform; alternatively, you may prefer to purchase tracks online using services such as Beatport, iTunes, or Bandcamp. The main thing here isn't where you get your music from, but rather how you keep it organised. Rekordbox, Traktor Pro 3 and Serato DJ Pro all feature the option to tag songs and curate playlists, so ideally with a short amount of prep time you'll be well on the way towards spinning an impressive set!