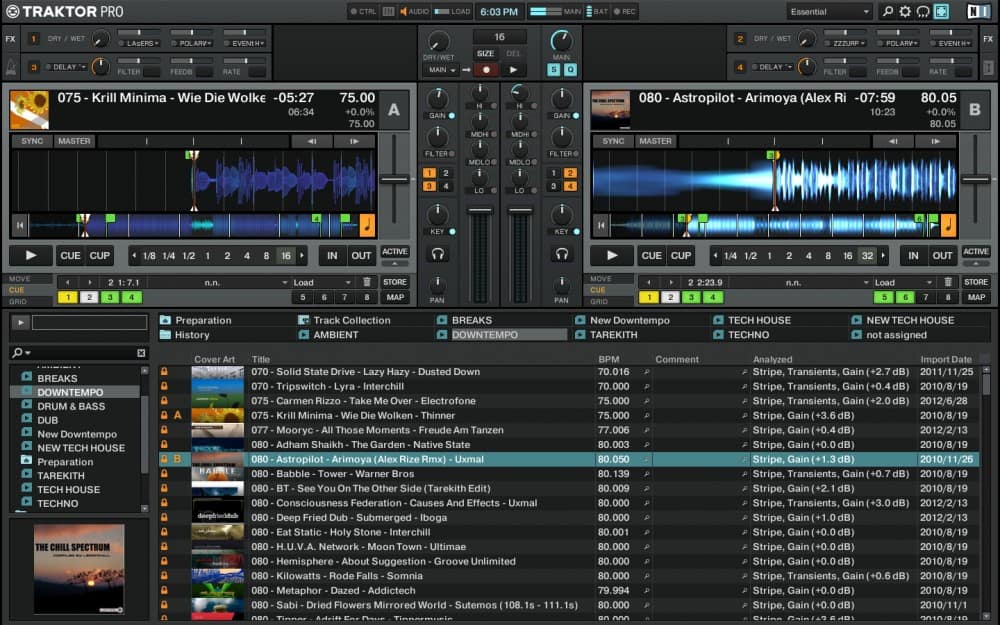 Lets start things off at your favourite club just as the biggest of baselines drop. Everyone around you is going nuts and you look up to see what genius has orchestrated this colossal moment. What you see is a cool, fashion conscious, nerdish kind of guy or girl sporting a set of headphones staring at a laptop screen…. Hang on, where did the DJ go?
In the industry it is called "Serato Face" and just like trying to sneeze with your eyes open, it is an unavoidable force of nature to control so many musical elements without that special look of concentration reserved for Facebook stalking.
What they are in fact staring at is the DJ software running on their laptop. This software acts as both a huge source of music as well as a complex visual display of all sorts of additional controls & effects at a DJ's disposal.
Connect the software up to a pair of CDJs, Mixer & additional controllers via USB cables extends the capabilities of hardware alone while providing mostly mouse/keyboard free control of the software. These Digital DJ Setups can be incredibly powerful tools for sculpting the next mind blowing mix or mashup.
But the laptop's role doesn't just end there as DJ software can be used in preparation before a gig to create wicked playlists, analyse vital track information, & set markers for the best bits in your songs. Some software can even upload all this information to a handy USB drive for minimal fuss plug & play at the DJ booth without the laptop!
The best part is today's best in class DJ software is affordable, spectacularly powerful and as much at home at a house party as it is in the biggest of clubs & festivals. Because each of you are wonderfully unique, some DJ software will work better with your DJ style than others. In this article we are going to dive into the top 3 Digital DJ setups and explain how you can get the most out of them.
Arguably the most innovative DJ software at the moment has to be Native Instruments flagship 'Traktor Pro 2'. With the ability to play and automatically sync 4 different tracks at the same time as well as record then play up to 8 short samples on the fly, its one of the most technically advanced of the three. Plug and play friendly with CDJs as well as a massive range of controllers for each one of its features means this software has it all. However with all that capability comes complexity and perhaps complacency. The greatly debated "sync" feature means a lot of the traditional DJ work of keeping track's beats in time manually is not required, which for some is what DJing is all about. Our opinion is that this frees up a DJ to be incredibility creative with the software, making for unique live creations that can't be 'shazamed' and bought online.
The highly popular, particularly amongst the working DJ community here in Hong Kong is Serato's self named 'Serato DJ'. For turntable junkies and scratchologists this is the go to DJ software. One of the most intuitive interfaces of the three, it blends traditional DJing skills with modern digital features making extremely complex mixing easy while still allowing for the occasional hand or two on the controls to keep the show entertaining. There is additional hardware required to connect the software with the CDJs in the DJ booth which can be a bit fiddly, but over all it's a solid platform to blend the old school with the new school.
Finally we have Pioneer's 'Rekordbox' (same company that makes the industry standard CDJs) that ingeniously bridges music preparation before a gig with the mobility to leave the laptop at home! Though it can be used in the DJ booth, its features serve most better in the studio to analyze & prepare music before exporting all that hard work to a USB drive for minimal tech setup at the venue.
Out of a bunch more software worth mentioning; one in particular called 'Mixed In Key' is our personal pick. If your looking for a way to instantly improve your track selections for a mix by tagging your music with a numbering system that can tell you whether your Alicia Keys floor filler will work with the latest thumping tech house release from Tool Room Records, then look no further. Most other DJ software is catching on to harmonic key recognition but 'Mixed In Key' is the leader in this class.
With all the different DJ Software and features comes great cosmic power… to harness that power is a ludicrous range of controllers that allow everything from replacing CDJs and mixers to complementing them with additional effects and controls. The range can really be tough to choose from, not to mention fit into your 'DJ Gig Bag', something we'll explore in our next article. What we do recommend is start with the controllers made for the software as most of the time the DJ software is included.